"The pelletingpan for all your flower seeds and/or little charges of 5-250 gr/batch"

The PC-S has been developed specifically for the pelleting of flower seeds and vegetable seeds small parties (20-250 g per batch). This makes the machine ideal for small batches of pelleting for example, in a laboratory environment.
With our segmented panmanual mixing is no more necessary, because of the corners the seed mixes by itself. The combination of the standard delivered liquid syringe with optional fluid pump ensures that there is a homogeneous beam on the seed. Along with the PF-35 powder dosing device, which is a very homogeneous powder output has what looks like a powder curtain, you have the best machine for your conventional pelletingproces.
By the design of the front plate with suction you have optimal access to the pelletingproces. The lighting and the flexible head machine will make sure you get to follow the process and affect.
The machine can be equipped with various standard operating possibilities. A "basic" on/off model to an extensive panel where you will find all the functions at your fingertips.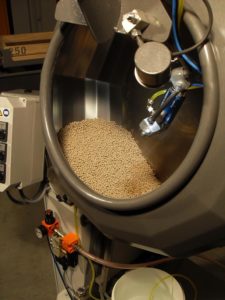 Features:
• Unique segmented drum for optimal material mixing and movement
• Optional 'all-in-one' simple operation for the pump, dosing device and the rotation speed
• 100% access to the process
• Pan height and angle are adjustable
simple design
• Plug and play standard version
• Various pan sizes possible
PDF
Fill in the form below and a link to the PDF-file will be shown.